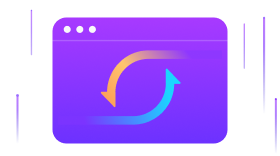 Online Converter
Online free video/audio converter
Online free video/audio compressor
Edit ringtone by trimming, rearranging, compressing,and adjusting the bitrate online
Download Android ringtones from YouTube, Vimeo, and more video-sharing platforms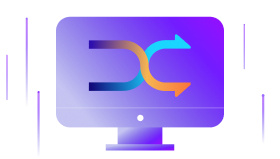 Faster Desktop Converter
Convert video and audio files to 1000+ target formats, including MP4, MP3, FLV, FLAC, etc
30x faster conversion speed offers your a smooth workflow
Create entertaining ringtones from VOB, MP4, MP3, AAC, OGG, FLV, AVI, and many more
Best ringtone making software for Windows and Mac.
7 Solutions | How to Make a YouTube Song Your Ringtone on Android
Make YouTube Song Ringtone on Android
By Kendra D. Mitchell | Aug 17,2021 22:01 pm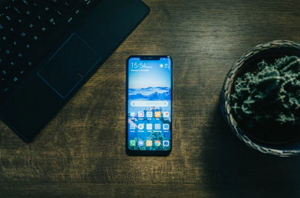 According to the latest statistics, at least 84% of YouTube video clips contain some 10 seconds of music. In an ideal world, this should be enough for you to make your own custom ringtones. However, do you know how to make a YouTube song your ringtone on Android or iOS? If you don't, fret not, because this insightful guidepost will show you how to set a YouTube song as ringtone without computer quickly.
Part 1. [Recommended] The Easiest Way to Make a YouTube Song Your Ringtone on Android/iPhone
Making a custom Android ringtone should be a cakewalk if you have a simple but effective app like Online UniConverter (Originally Media.io). With this beautiful site, all that you need is a YouTube song URL and a reliable internet connection to make a high-quality ringtone. You can also create Android ringtones from local formats like MP3, M4A, AAC, M4R, FLAC, AU, and many others. Plus, this app allows users to preset the all-important fade effects.
Online UniConverter – Best Smartphone Ringtone Maker
Create custom Android ringtone directly from YouTube URLs.
Supports MP3, AIFF, AU, AAC, M4A, and other standard audio formats.
Customize ringtones by cutting, converting, and applying fade effects.
Edit standard video and image formats by converting, compressing, making GIFs, etc.
Friendly 24/7 customer support.
Available on Chrome, Edge, Safari, Firefox, Opera, and other HTML5 browsers.
Steps of how to make a YouTube song your ringtone on Android:
Step 1. Open the ringtone maker
Use your favorite browser to launch the Online UniConverter and then choose Audio Cutter under the Online Tools tab.
Step 2. Import your YouTube file
Next, open your YouTube video and copy the URL link. Now proceed to paste it on the search box with a YouTube icon in the Online Audio Cutter. Wait a while for the app to finish uploading your video.
Step 3. Customize ringtone
After uploading the YouTube video successfully, use the trim handles to preset a start and endpoint for the ringtone. You can also set the fade effects and then choose MP3 format for your target file under the Save To list.
Step 4. Make an Android ringtone
Lastly, hit the CUT button to start transcoding YouTube to Android ringtone in high quality. You can now download the YouTube ringtone directly to your Android phone and set it as your ringtone. That's about it!
Part 2. Other 6 Helpful Online Ringtone Makers for Android
In addition to the Online UniConverter, you can also create some entertaining Android ringtones using these online apps. Take note, however, that most of them don't support the direct conversion of YouTube video to ringtone.
MP3food is a robust audio joiner and cutter that works perfectly on any web browser. It's an advert-free app that's easy to navigate and supports standard sound formats like AIFF, AU, MP3, M4A, and so on. Additionally, this free site is absolutely safe because all your created files and personal data are deleted automatically after creation. It's a high score for this audio editing app.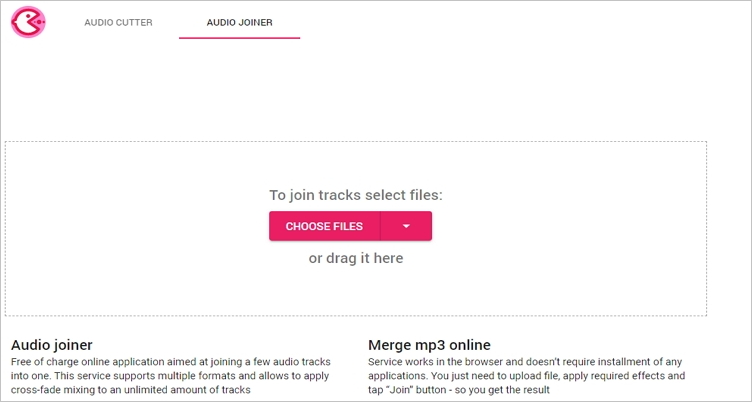 Ringtonemaker, as the name suggests, is a ringtone-making site that's beautifully designed and efficient. Here, you can upload any audio file like FLAC, MP4, M4A, M4R, and more. And after adding audio, you can manually drag the cutting handles to set the start and end time as well as adjust audio volume. On the flip side, Ringtonemaker supports only two target formats – M4R and MP3.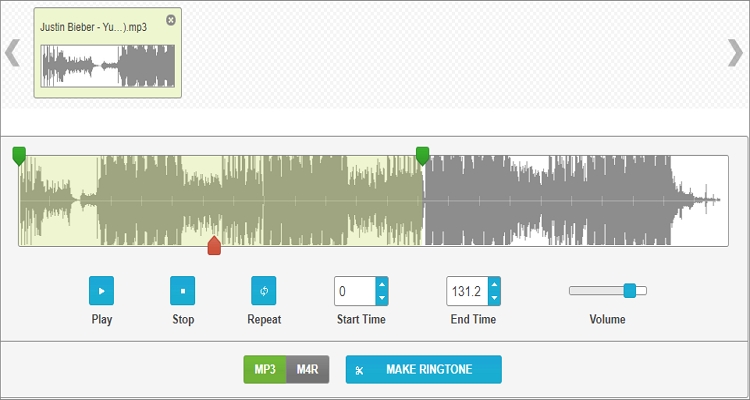 You can also make custom Android ringtones with Ringer. On this site, you simply need to upload any audio format and convert it to either M4R or MP3 format. But before that, Ringer presets the ringtone duration and volume. It also offers a preview feature, just to make sure that your Android ringtone is on point. However, supporting only two target formats is a serious drawback.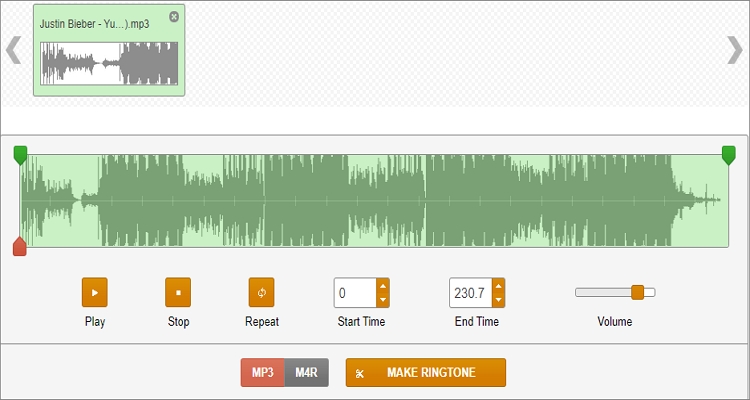 Next, you can make a ringtone with Melofania easily. On this ad-infested site, you can add MP3, M4A, M4R, or OGG audio files before cutting and converting to either MP3 or M4R. Also, users can make Android and iOS ringtones from YouTube videos easily. However, Melofania supports limited input and output formats. That aside, it's a lovely YouTube to ringtone conversion website.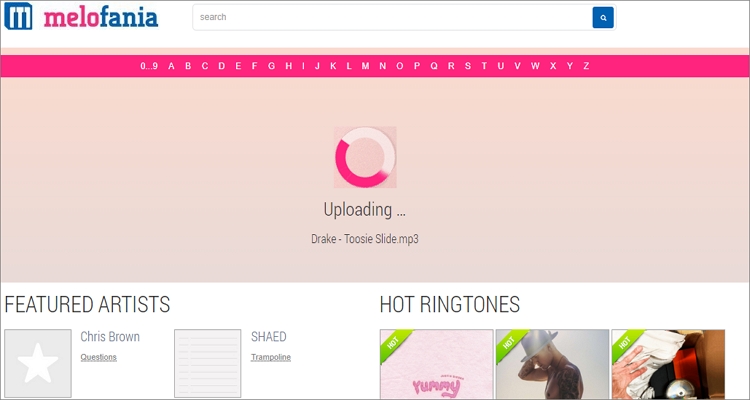 Last but not least, you can use the Ringtone Maker Wiz to cut MP3 and MP4 files in seconds. It's an ad-free website that should give you minimal problems to navigate. After adding a file, you can simply drag the trim timeline to set your Android ringtone's duration and then choose a target format. It can make ringtones in AAC, M4R, or MP3 format. Even better, this tool has a dedicated Android app on Google Play Store.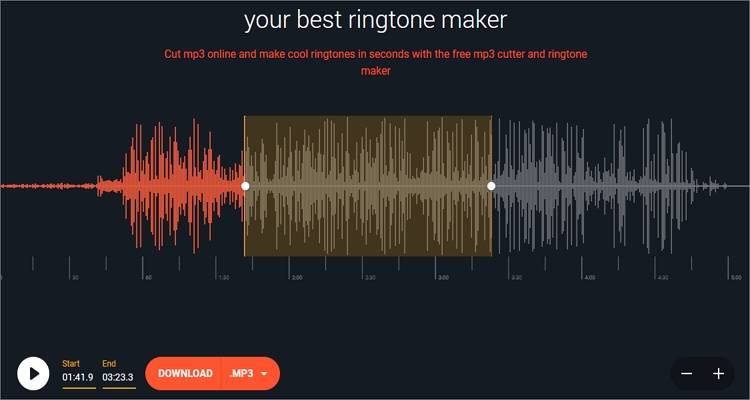 The final online option on this long list is Magicode. It is a quick and easy MP3 cutter that doesn't feature any confusing steps. Just upload your MP3 and drag the start and end handles to set the duration. On a sad note, it's a pretty basic tool because it supports only MP3 inputs. Also, the lack of additional ringtone-making features is a disadvantage.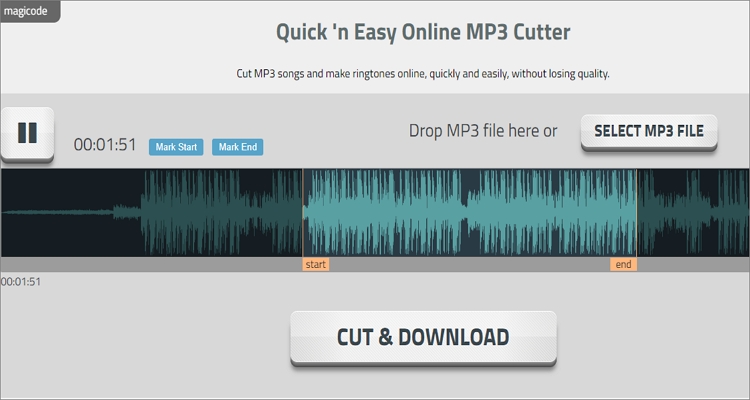 Write in the end
Personally, using Online UniConverter is the best method to set a YouTube song as ringtone. Unlike the other alternatives, it supports a wide array of input/output formats (YouTube videos included) and offers a super-simple platform.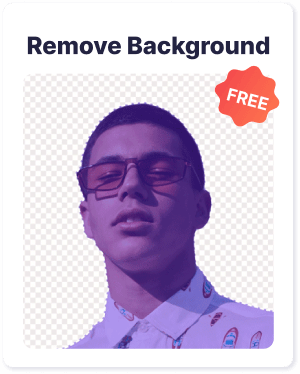 UniConverter
Your Complete Video Toolbox