[5 Best Tools] How to Remove Object from Photo Online
Remove Unwanted Objects from Photo/Video
By Kendra D. Mitchell |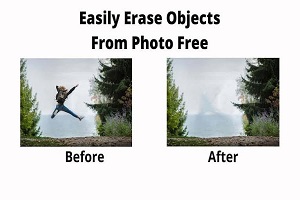 Unwanted objects in photos include shadows, a "photobomber," a street sign, a trash can in the background, and so on. These unwanted objects make photos imperfect, but you can edit your pictures to near-perfection with a few tricks and tips. Objects are tagged "unwanted" because they were not in the initial plan for taking photos. Thus, they distort the overall appearance of images. That is why they need to be removed, and with a good image object remover, you can easily do this.
The purpose of this blog is to review the five best tools with which you can remove objects from photos online for free. These tools fit different types of audiences, i.e., beginners or pros. Hence, there is an online object remover for you in whichever category you fall under.
Part 1. Top 2 Advanced Object Remover Online
Inpaint is a magical tool that will quickly solve all your object removal needs. It makes this possible by extracting textures or pixels from the image surrounding the object. It uses these generated textures to fill the highlighted area to remove the unwanted object. If you want to remove objects from photos for free, you have to upload pictures in PNG, WebP, or JPG formats. Also, the maximum resolution must be 4.2 megapixels, and the file size should not be more than 10MB. You can increase this limit by getting the desktop version for Mac or Windows.
You can also remove persons from photos for free with Inpaint editor, just like magic!
Other key features of the Inpaint online tool include:
It allows for batch processing of images.
It has excellent color profiles.
It effectively reconstructs the area containing the unwanted object using pixels derived from the surrounding area on the photo; this is made possible by the improved algorithms for removing unwanted objects.
Try Inpaint by first uploading an image that contains an unwanted object, carefully highlighting the undesirable thing, and starting processing. Inpaint will remove the unwanted object from your photo online using the method discussed above.
The second advanced image object remover we will be looking at is the Cutout.Pro tool. This tool is also magical in removing unwanted objects or elements from photos online. Also, it lets you retouch images to give them that perfect finishing touch you desire.
When you use Cutout.pro, the following features are what you will get:
It works professionally in removing unwanted objects from photos such as symbols, texts, wreckage, dirt around, a blurry passerby, etc., thereby ensuring that your image has a perfectly restored output.
You can roll back to the old times by erasing spots, scratches, wrinkles, and tears.
It uses Artificial Intelligence (AI) technology to remove unwanted objects in the background and enhance body features such as eyes, skin, hair, lips, etc.
All you need to do to use this powerful editor is drop an image or copy and page an image URL on the button that says "Upload image." Now, you will use the selection feature to map out or highlight the unwanted object and erase it from the photo.
Although these two apps are robust and provide pro features, they seem complicated to use because they are professional software. However, if you need quick and easy-to-use tools, move to part two.
Part 2. Top 3 Easy Tools to Remove Unwanted Objects from Photos [Free]
Fotor is an online editor that helps you remove unwanted objects from a photo by cloning another area and using that cloned part to cover the unwanted object. The "Clone" effect is easy to use even though it may sound like a complicated pro tool. It gives your edited images a more realistic outlook since you use a natural part of the image to cover the unwanted object. It is entirely free of charge and ideal for all categories of editors such as designers, students, photographers, freelancers, etc.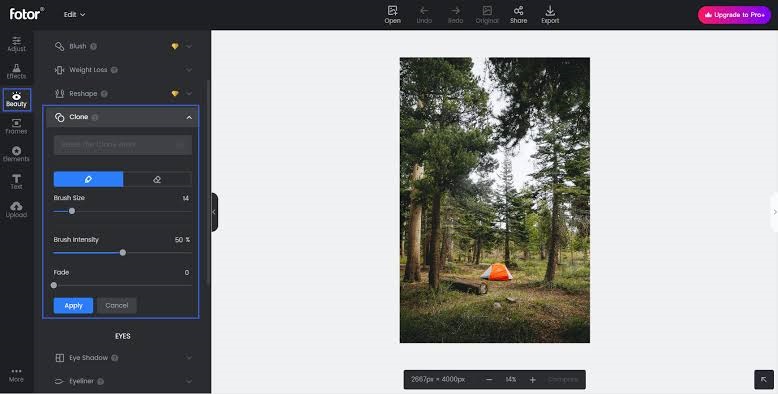 With Fotor, you do not need to add effects to an image after erasing the unwanted object as it maintains the original aesthetics of any image you upload.
Select "Edit a Photo" and upload the image you want to edit.
Choose the "Beauty" button. From here, you will select the "Clone" effect and choose a surrounding natural part of the image to be cloned. Then, take that duplicated section and strategically place it over the object you want to remove. Next, use the Clone brush after choosing its intensity, size, and fade.
Save the final result once you have selected the size and format of the output file.
That is all!
Unfortunately, Fotor does not have an automatic save, so if you are editing and the site mistakenly closes or your internet connection times out, your work will be lost, and you will have to start from scratch. Also, it would help if you made purchases to increase your access to more impressive features on the tool.
There is no perfect shot: that is a fact you have to accept. Sometimes you may discover, after a photoshoot, that there are things in the background that will affect the general aesthetics of your photo. Other times, it may be someone who entered the picture at the camera shutter's click. That is where Picsart comes in. Picsart gives you control over the way your image appears by helping you remove those unwanted objects and people from your photo. It is a quick way of deleting distracting texts, trash, stamps, the background blurs, etc.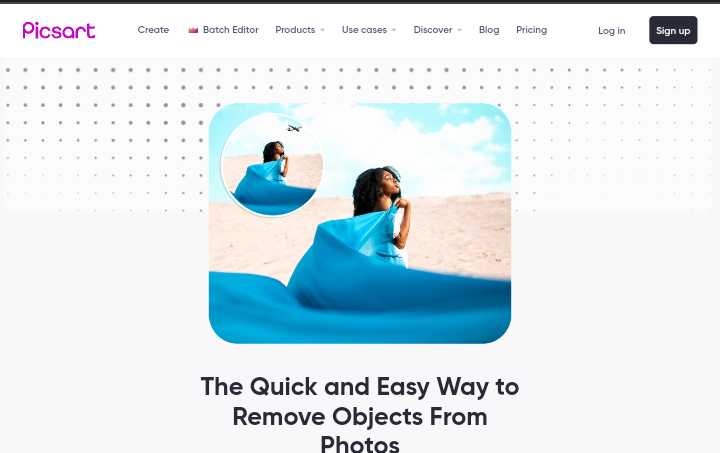 Using the following quick steps, remove unwanted objects from your photo with Picsart:
Begin a new design by selecting the purple plus sign at the bottom. Then, add the image to be edited.
Choose "Tools," then the "Clone" effect button.
With the brush, pointer, or eraser, you can remove the unwanted object from the image. Next, apply your changes and save the final result to your device.
A significant limitation of Picsart is that it is heavily dependent on an internet connection to enable the user to edit any photo. Also, there are ads within the app, making it less seamless to edit images.
Cleanup Pictures is an object eraser online tool that removes any unwanted person, object, defects, or texts from your photos. It provides excellent quality photos even after you have erased the unwanted parts. It is not complex to use, and with this tool, you can get professional-looking image results. It works with an algorithm to ensure you get the best for edited photos and retouching. It is entirely free.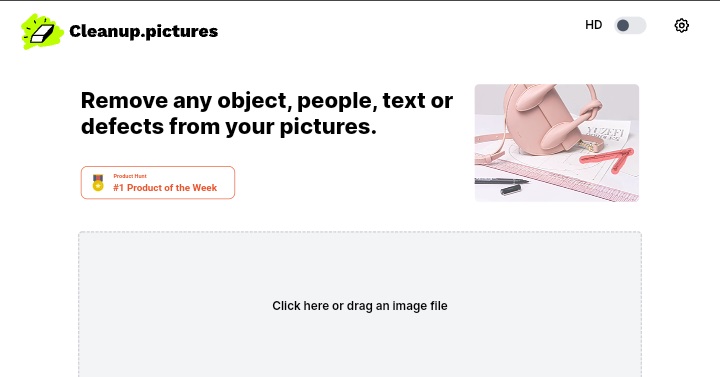 Follow these simple steps to use Cleanup Pictures online object remover:
Tap the center button to upload the image you want to edit.
Use the brush to cover the area you wish to erase. Ensure it is completely covered for the best result. Hold the highlighter over the area to achieve this because once you let go of the brush, the Cleanup's AI will take automatic effect.
Save the edited photo.
A limitation of this tool is that it leaves a dark background after removing dense items or objects from a photo, unlike other tools that use the cloning method to give a more natural result.
Part 3. FAQs of Object Remover Online
1. What is the best app to remove an object from an image online?
The 5 apps discussed above will get the job done regarding the best ways to remove unwanted photos from objects online. In addition, you can choose to use Inpaint, Cutout.pro, Fotor, PicsArt, or Cleanup Pictures online object remover. Whichever app you decide to use is dependent on your specific editing needs.
2. What is the best app to remove an object from video online?
The best tool to remove an object from a video online is Media.io Online Watermark Remover. It is simple to remove watermarks from videos such as stamps, logos, signatures, texts, etc. It works on any platform with a good network connection since it is a web-based tool. To use this tool, choose the video file you want to edit, select the area containing the unwanted object, proceed to remove it and save the final result to your device.
Conclusion
This blog has shown you how to remove objects from photos using the best image object removers you can find online. Based on the review of these tools, you get to decide which tool best suits your needs, then use that to effectively and quickly remove the object from the image online. Now, you can get that perfect picture you have always wanted.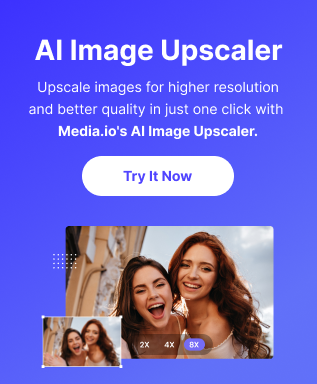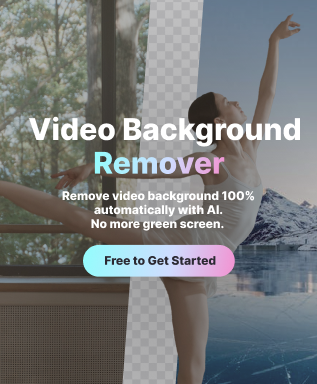 Media.io - Online Video Editor
Create Your Incredible Videos Anywhere, Anytime!
Convert BMP

Convert GIF

Convert JPG

Convert PNG

Convert Other Images

Resize Image

Make Your Memes