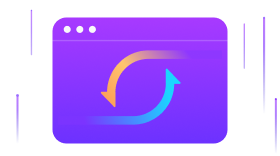 Online Image Editor
Online free image converter
It supports all image file formats like JPEG, PNG, TIFF, GIF, etc.
Export image files to JPEG, PNG, TIFF, and BMP files with high-quality.
Easily online picture editor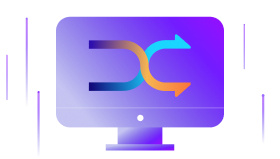 Best Image Converter & Editor
Convert all image formats (including Raw) to JPEG, PNG, TIFF, and BMP.\
Edit image files by adding unique watermarks, compressing, cropping, and applying effects.
Edit image, audio and video files easily
OS Support: Windows 10/8/7 & Mac OS X 10.9+.
Twitter Picture Resizer: How to Resize Images for Twitter Online Free
How to Resize Images for Twitter
By Kendra D. Mitchell | Jun 10,2021 16:07 pm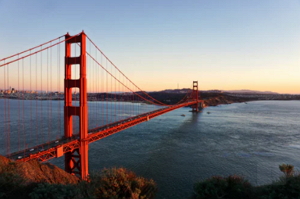 If you are new to Twitter or already have an account and want to update your pictures, this article will be of great help. Twitter allows you to have pictures as your profile, header, and ads but they need to be within the size allowed to avoid the cropping. So if you have large-sized pictures, you can resize image for Twitter to make it look neat and impressive. Know about the recommended size and twitter picture resizer tools in detail.
Part 1. Recommended Photo Size for Twitter 2021
Twitter recommends an ideal size of picture for profile and other uses and when your image does not match up with this size, you need to resize picture for twitter. So before resizing, you must be well aware of the sizes recommended, and below is the list.
Twitter Header Size:
The picture that is present over the top of your Twitter profile page is known as the header photo and it is larger in size in comparison to the profile picture.
Recommended Pixels: 1500 X 1500
Maximum file size: 5MB
Aspect Ratio: 3:1
Twitter Profile Size:
This is the main image on your Twitter that represents you or your brand. The profile picture is visible at multiple places on the site like on the main Twitter page, follower's twitter stream and Who to follow box.
Pixels: 400 X 400 (display 200 X 200)
Max File size: 2 MB
Aspect ratio: 1:1
Twitter Ads
The ads on Twitter are referred to as cards and there are different types of these cards offered by the site. Image Website Card is one of these types where a tweet along with an image is used.
Pixels size: 800 X 418 or 800 X 800
Aspect Ratio: 1.9:1 or 1:1
Max Size: 3MB
Part 2. How to Resize Picture for Twitter Online Free Without Cropping
If you are looking for a simple tool to resize photo for twitter without cropping, Wondershare Online UniConverter will meet your expectations. This online program will need no download or installation and can quickly resize your photos in JPG, PNG, BMP, and GIF format. The images added to the program can be resized by mentioning the custom size or you can even select the percentage to the original size. At a time, 5 pictures of up to 5MB can be added and processed. After resizing you can choose to save the pictures to your desktop or Dropbox.
Drop it like it's hot
Add your files by dropping them in this window
Steps on how to resize an image for Twitter using Online UniConverter
Step 1: Open Image Resize and click on the + sign to add the picture. You can also drag and drop them to the interface.
Step 2: Enter the Twitter recommended size for the picture.
Step 3: Click on the Start button and the program will start the resizing process.
Part 3. Other Tools to Resize Image for Twitter Online Free
To resize an image to fit Twitter header, profile, and ads there are other free and online tools available. Below is the list of the popularly used one.
Using this free browser-based program you can add the pictures on your system as well as using the URL. You can choose the custom size as recommended by Twitter for resizing the pictures. There is also an option where you can resize them by the percentage. The program also gives you the option to select the quality, size, and format. Additional features include add effects, crop, rotate, choose aspect ratio, and others.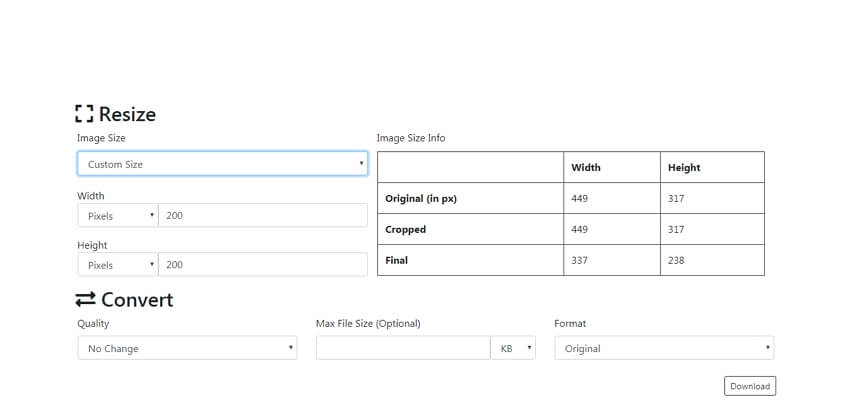 Steps on how to resize image for Twitter
Step 1: Open https://resizemyimg.com/ on your system and choose to add the picture from the computer or URL
Step 2: Under the Resize tab, choose the Custom Size option and select the desired height and width. Under the Convert section, you can choose the quality, size, and format as well.
Step 3: Click on the Download button to start processing and resizing your images. The file will be downloaded to your system.
This is a quick and simple tool that allows resizing images for various Twitter requirements like the card, header, profile, and others. You just need to select the program link for the desired option, add the image to the tool, and choose the cropping area. The program will convert the picture as per the Twitter recommended size and will make it available for download.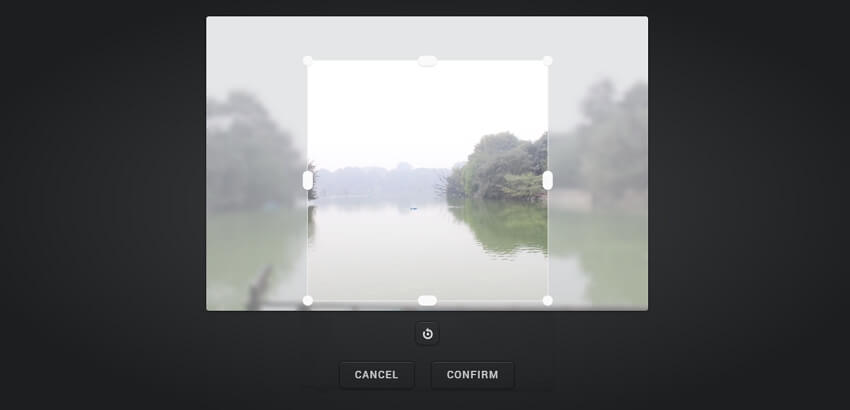 Steps to resize image for Twitter profile
Step 1: Open https://www.onlineresizeimage.com/twitter-profile-picture-resizer/ and click to browse and add the picture. Drag and drop also function here.
Step 2: Click on the edit icon to select the area of the image to be used and click on the CONFIRM button
Step 3: Hitting on the download icon will resize the image and will download it to your system
This is a widely used online tool for resizing images for various social networks including Twitter. The program has predefined sizes for various Twitter requirements so that you just need to select the desired option and it will be processed accordingly. You can even crop and scale the image if required.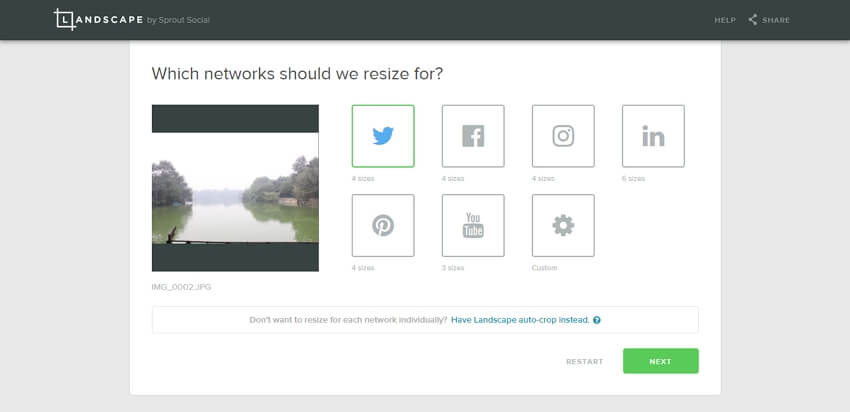 Steps on how to resize photo for Twitter
Step 1: Launch https://sproutsocial.com/landscape on your browser and click on the Upload button to add the picture.
Step 2: After the image is uploaded, select Twitter as the social media network for which you want to resize the image and click on the NEXT button at the bottom right.
Step 3: Choose from Profile, Header, In-Stream Tall or In-Stream Wide option and click on the NEXT button
Step 4: Next, you can choose to crop and scale the image by moving the slider. Finally, hit on the DOWNLOAD button and the program will download the resized file to your system.
In addition to the above listed, there are many other image processing tools to resize for Twitter are available. Selecting one of these depends on the features that you are looking for. If you want multiple files to be processed, Online UniConverter will work as a good option while if you are looking for a basic resizing without any customization, Onlineresizeimage can be considered.