Top 16 Video Sharing Sites of 2020 Like YouTube
16 Video Upload Sites Similar to Youtube
By Kendra D. Mitchell | Feb 18,2020 10:32 am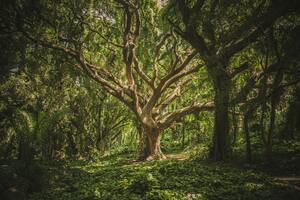 Videos are a great source of entertainment for everyone. Most of us love watching videos on YouTube, or we upload them to share with the world. It is quite popular among a large number of people. But when you want to get famous here, it seems complicated since YouTube is full of amateur stars of all genres. Thus, we have made a list of top 16 video sharing websites of 2020 like YouTube for you.
This article contains two parts; first of all, we will get to know about some free video sharing sites other than YouTube. Then we will determine the pros and cons of all the listed sites along with learning to attract viewers to your video.
Part 1. 16 Free Best Video Sharing Platform
URL: https://www.dailymotion.com/
Key Features:
It's the best Video Sharing Platform after YouTube with around 300 million people users in a month.
You can upload a copyrighted video without any issue.
Great platform for cartoon makers.
Easy to share stream videos.
It supports Chromecast, Airplay, 360-degree videos, live streaming, and many more.
Pros:
If you succeed in gaining a high number of views, then you can make some money too;
Chances of becoming famous in a short time.
Con:
Sometimes, technical problems can ruin your experience of Dailymotion;
Too many ads are irritating.
Pricing: Dailymotion is free, and you don't have to pay anything for sharing videos.
Revenue Sharing: Enable monetization on your video, and then you can earn 70% profit revenue based on the number of views.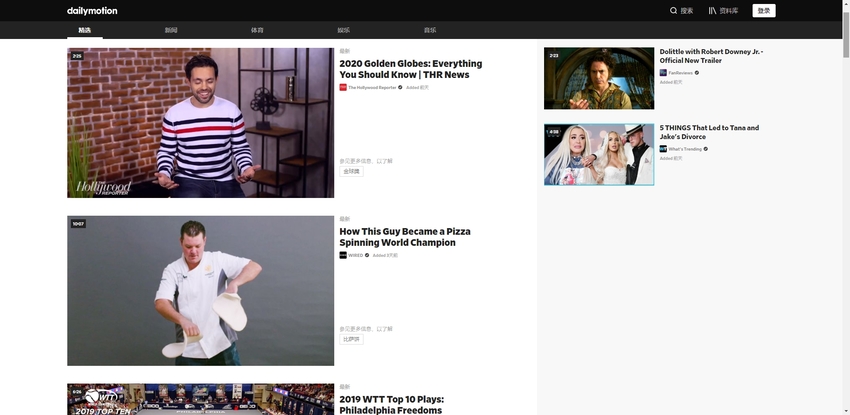 URL: https://vimeo.com/
Key Features:
Support 4K Ultra HD video content.
It has a professional UI.
Offers integration with Adobe premiere pro.
Let you build your team of 10 members or collaborate on private projects.
Plans are affordable.
Pros:
Vimeo is an ad-free platform;
It shows detailed insights like who viewed your video, who liked it etc.
Con:
The amount of traffic on this site is less than YouTube or Dailymotion;
YouTube ranks first in the Google search engine.
Pricing: It has free, plus ($59.95/yr) and PRO ($199/yr) subscriptions.
Revenue Sharing: Vimeo's revenue sharing system is 90/10 after the transaction cost.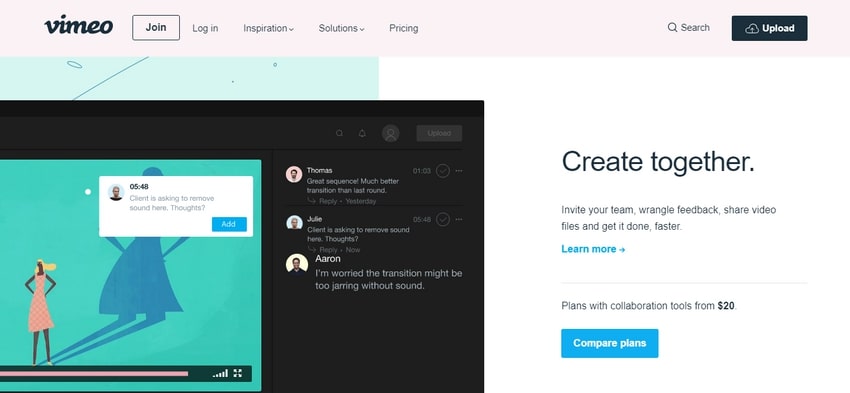 Key Features:
No need to pay for watching videos.
An appropriate video sharing platform for gamers.
Chat with your viewers.
Available in the form of android and iOS apps.
Purchase bits for supporting your favourite channels.
Pros:
Unmatched live game streaming;
Interact with anyone on the go.
Con:
Chat rooms can be full of spam;
Opportunity to connect with established communities.
Pricing: Free, Turbo ($8.99/month).
Revenue Sharing: Users can only earn 5% of the share of the revenue by applying for the partnership or affiliate program.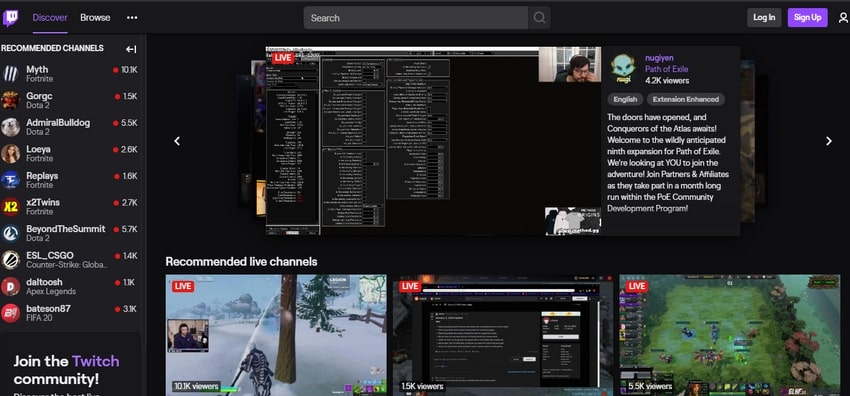 URL: https://www.metacafe.com/
Key Features:
Quite known to almost every video lover.
Aims at short videos.
All the major categories of videos are available to watch.
Receives 40 million global users every month.
Videos are downloadable.
Pros:
One popular video having more than 1000 viewers can give you a revenue of $5.
Well known to others for its pageview payment system.
Con:
Less number of traffic because most of the viewers are of the US.
Some videos are the same as on YouTube.
Pricing: Free
Revenue Sharing: If your video reached 20,000 views, it would pay you $5 per 100 views.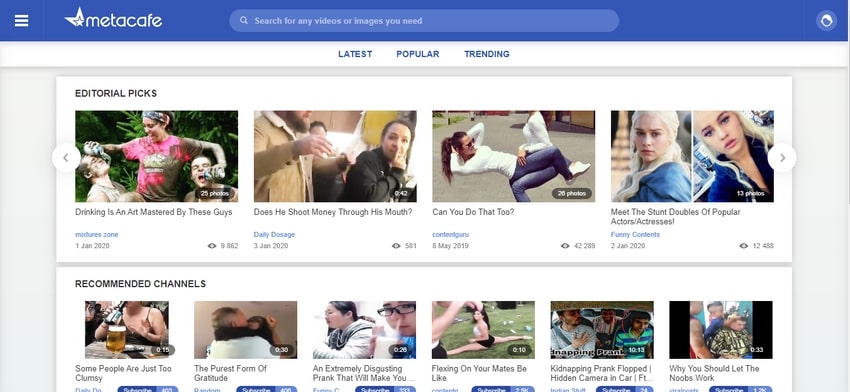 URL: https://www.pscp.tv/
Key Features:
PSCP TV or periscope exists as an app for your smartphone and tablet.
People can use their online websites for viewing content.
Owned by Twitter.
Connect with your Twitter followers.
Perform live streaming through phone or tablet.
Pros:
Comes with an interactive map feature.
Make secure connections with the audience with the help of twitter integration.
Con:
Broadcasted videos remain on the app for a limited time.
Advanced and modern makes it a little complicated to use.
Pricing: Free
Revenue Sharing: Make money through the Super Broadcaster Program once you earn three million stars per month.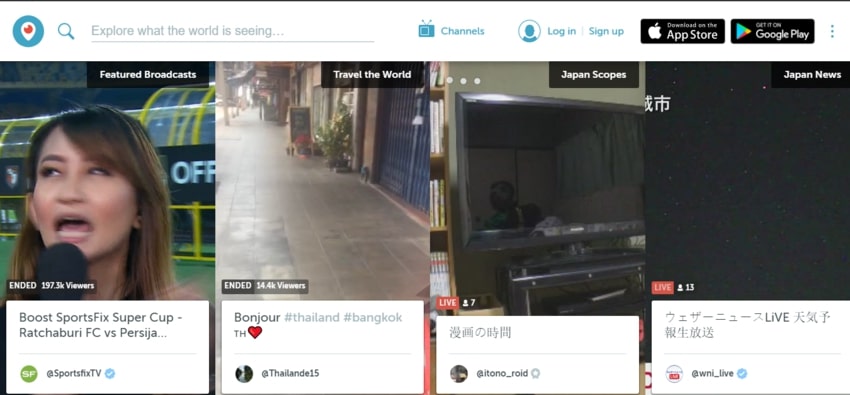 URL: https://break.com/
Key Features:
Mainly aims at showing humorous contents.
Its application is available for Xbox 360 And Xbox One users.
Around 8 million visitors come to this site every month.
It has flash, games, pictures, etc.
The site handles the promotion of your videos.
Pros:
You can sell a video or image on this site.
You can upload restrictive videos that makes it a safe video hosting site.
Con:
Break only targets the audience of age 18-35 years.
Least popular video upload sites.
Pricing: Free
Revenue Sharing: You can earn $2000 once your video successfully gets a place on the homepage of the website.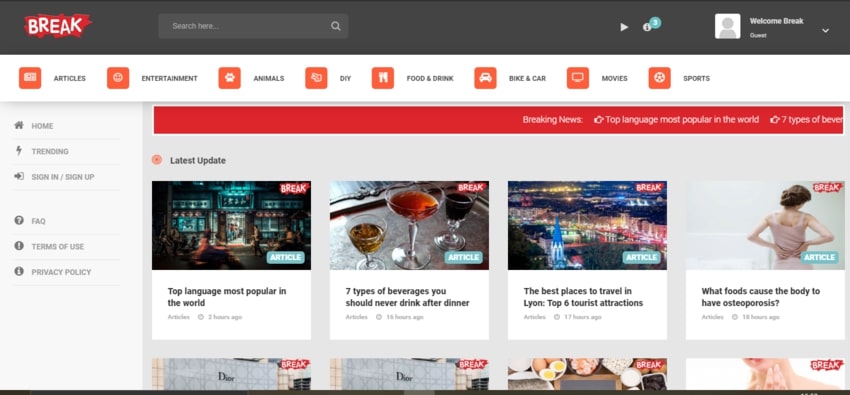 Key Features:
TV shows, movies, everything is here.
Videos have an impressive quality of audio.
No need to worry about limitations while uploading any video.
Ease of use.
A plethora of social features.
Pros:
It uses both P2P and Adobe flash-based streaming technology.
Easier to find interesting content.
Con:
Quite annoying due to the proprietary player.
Browsing is difficult.
Pricing: Free
Revenue Sharing: With advertising program receive 50:50 revenue proportion.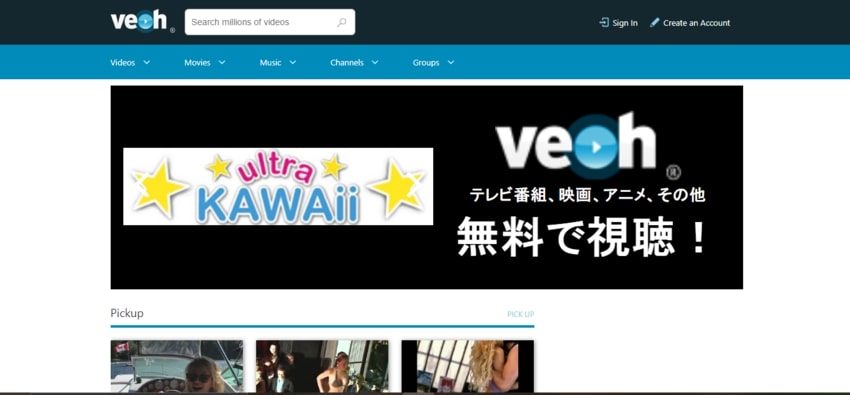 URL: https://www.liveleak.com/
Key Features:
Characterizing a separate section for uploading video.
Videos are mostly related to politics.
The on-going conflict in Syria and Ukraine also included in the categories list.
Best to keep yourself updated on worldwide news.
Blocked in few countries because of violent contents.
Pros:
90% of the contents are authentic.
Gives you the info on everything happening in the world.
Con:
This site is not for peace lovers.
It features many violent videos, like shooting and accidents.
Pricing: Free
Revenue Sharing: You get rewards but cannot redeem them.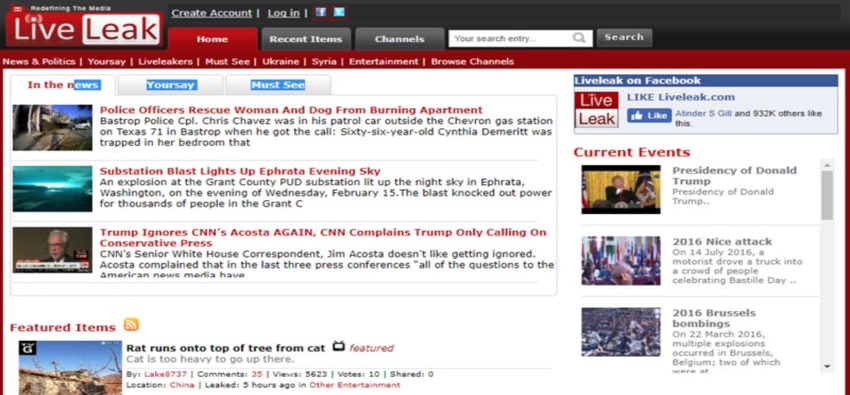 URL: https://myspace.com/discover/videos
Key Features:
Celebrities videos are displayed first.
Videos can be shared on other social media platforms.
It gives a detailed description of a video.
A separate option for listening to thousands of music.
Feel special by connecting with designers, musicians, and many more people.
Pros:
Beautiful UI.
Collections of a wide range of celebrities videos.
Con:
It can sell your personal information to third-party websites if you will opt-out.
You have to follow the guideline to avoid ads.
Pricing: Free
Revenue Sharing: No payment for video content.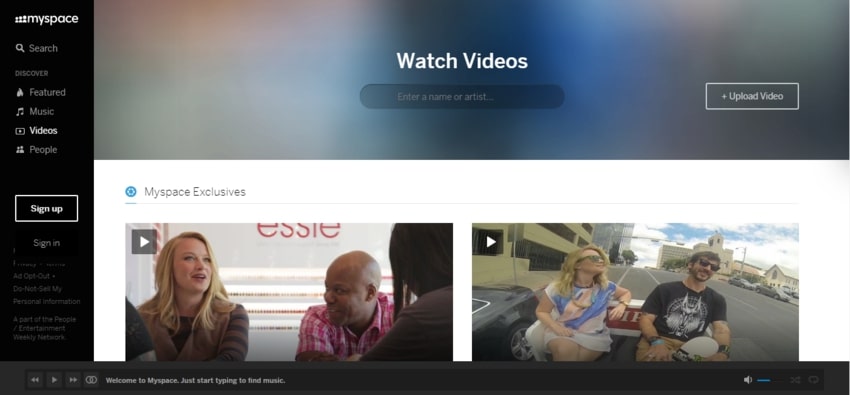 URL: https://hq.vevo.com/
Key Features:
Designed for music lovers.
Founded as a joint venture to compete with YouTube.
Attractive and easy to understand UI.
More than 450 thousand videos are in the Vevo's online database.
Fantastic place for top music artists to build a fan base.
Pros:
Monetize ads on your videos.
Colossal traffic is a bonus.
Con:
Vevo contents are limited to a few countries.
The official site isn't functioning anymore.
Pricing: Watching any kind of video is free of cost.
Revenue Sharing: Vevo has an average CPM rate. It shares revenue as per the number of views and clicks on the ad.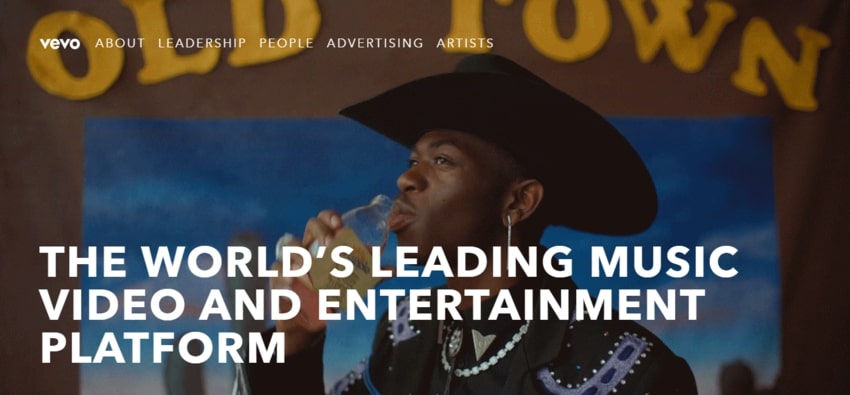 URL: https://www.ebaumsworld.com/
Key Features:
Features unique and comedy contents.
It has a special feature called Moron Mail.
Listen to celebrity quotes or phrases with the help of soundboards.
It is different from all the video-sharing platforms.
This product is the property of Literally Media.
Pros:
It comes with a chat room feature.
You can purchase EBaum products from its merchandise.
Con:
Site is full of malware and viruses.
Not a good website for young children.
Pricing: Free
Revenue Sharing: No revenue sharing although you can earn with their blog tool.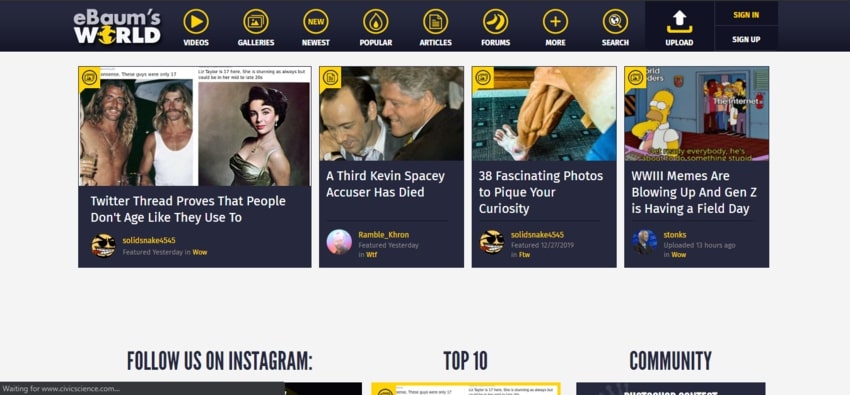 URL: https://d.tube/
Key Features:
D.Tube is a crypto- decentralized free video upload site.
It offers unlimited access to millions of videos.
No hidden algorithm exists to favour creator.
Works on the IPFS P2P network and the STEEM blockchain.
It is not promoting censorship.
Pros:
Every single user can earn money by uploading, curating or up voting contents.
It is completely ad-free.
Con:
Lacks the feature of deleting or editing video after uploading.
Doesn't show you view counts.
Pricing: Free
Revenue Sharing: Whoever up vote a content, create, or post on the D.Tube platform deserves to earn revenue.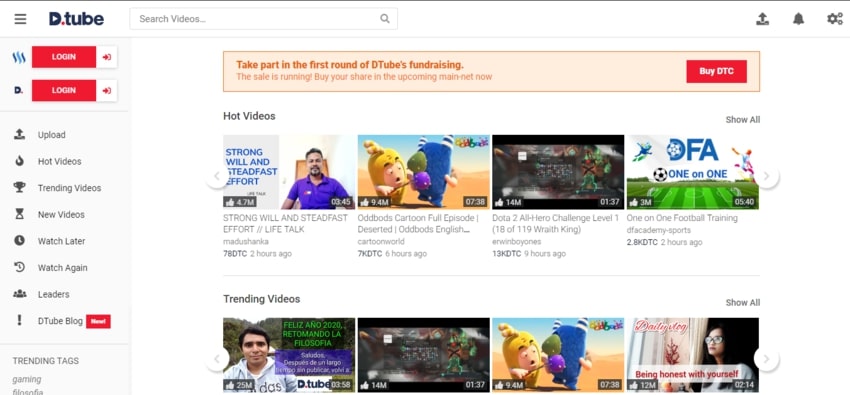 Key Features:
It's a Hong-Kong based share website.
Most admired free video-sharing platform.
It focusses on funny content.
It has a large social media following.
The videos displayed are according to ratings.
Pros:
Favored more by teens due to the funny contents.
For a little laughter, it is one of the perfect video sites to visit.
Con:
Contents uploaded by the user becomes the property of 9GAG.
Nobody can monetize their videos.
Pricing: Free
Revenue Sharing: It rewards 3 top users for outstanding content.
URL: https://www.bitchute.com/
Key Features:
Free video share site founded in 2017.
It has no restrictions on uploading video.
Working on peer-to-peer WebTorrent technology.
It allows you to express freely.
It doesn't censor any video.
Pros:
Users can create their channels.
They act as peers for others to download them.
Con:
Limited features.
Nothing special.
Pricing: Bitchute is providing services at free of cost.
Revenue Sharing: No options to earn revenue. Users receive a donation on their videos as cryptocurrency.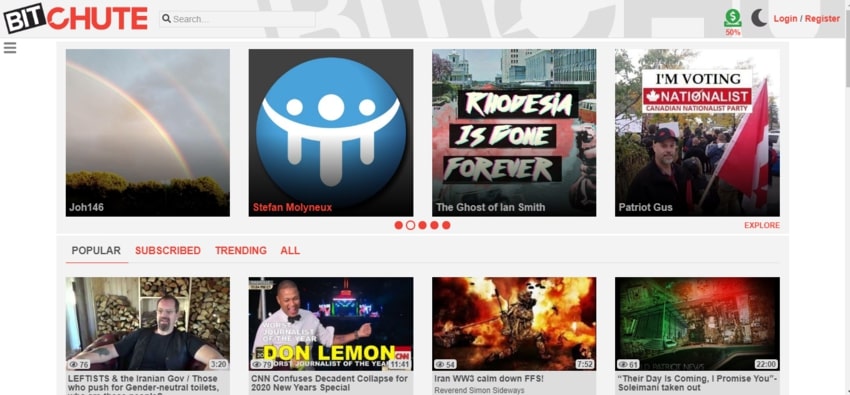 URL: https://archive.org/details/movies
Key Features:
Unlimited access to videos.
More than 4 million audio recordings stored on the site.
Get the freedom to red to 11 million books and 279 million web pages.
Free access to zillions of files.
It's an activist organization.
Pros:
Everything stores in its database are free.
Open your account and share audio, video and even books with the world.
Con:
Not for profit-making.
You are unable to earn anything except some followers.
Pricing: Free
Revenue Sharing: It doesn't share any revenue.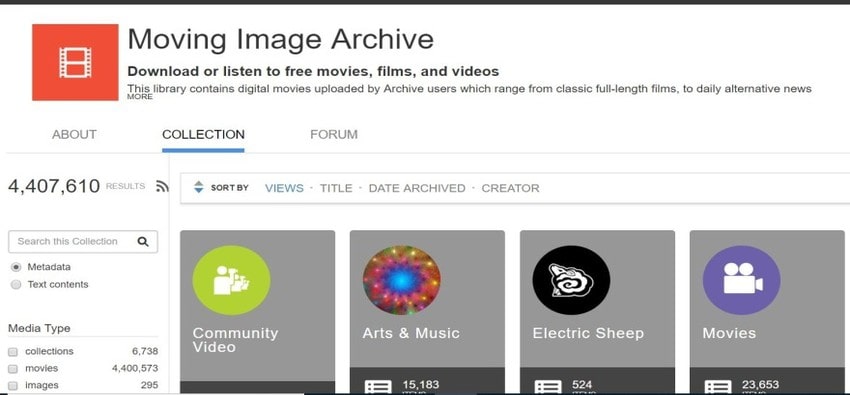 URL: https://thevlogs.com/home
Key Features:
Quite attractive and straightforward UI.
Bundle of videos of different categories, especially politics and news.
Watch the video for no hidden cost.
Easy to use.
Lack of strict guidelines so it's user-friendly.
Pros:
You can use it in any mobile device, desktop, and tablet.
Run your ads here.
Con:
Register and choose a paid plan for uploading videos.
It doesn't look professional like YouTube or Vimeo.
Pricing: You don't have to empty your pocket to watch videos. In case you want to run an ad, then only you have to pay.
Revenue Sharing: The site is free to us because of the ad revenue system. You can't make money here.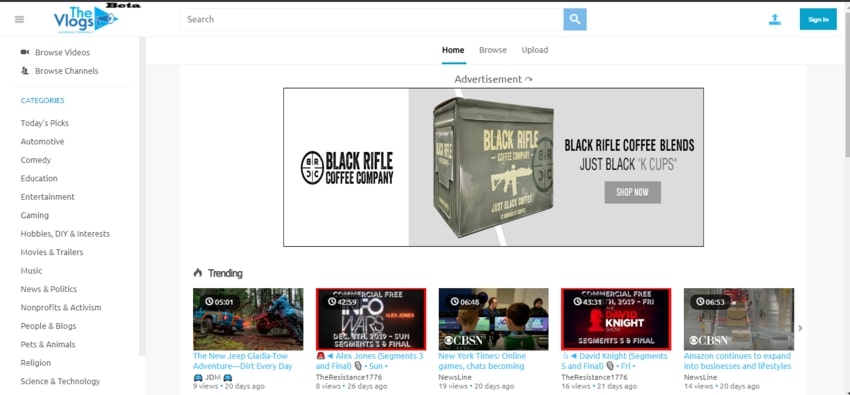 Part 2. Tips to Attract Viewers to Your Video Channel
Did you realize that the videos uploaded by you are not getting expected views? Well, it is a common problem faced by many users. When a user begins to share videos on a video-sharing website, it takes plenty of time to get a decent number of viewers. Therefore, we decided to come with this section and share some tips for increasing traffic to your video channel.
Follow the advice given here:
Creating a fascinating content is the first step to bring people on your uploaded video. If there will be great content on your video channel, no user will be able to avoid the subscribe button.
It is not easy to get the attention of people with the help of great content only. Try to use keyword-focused titles for our videos.
Optimize everything on your video channel according to your needs. Make sure everything is perfect. Do not forget to promote videos on various social media sites.
Conclusion
Videos are the easiest way to present you to the world. Hence we came forth with the list of top 16 video sharing sites of 2020. The above is the best list of video-sharing platforms with all the details like main features, pros, and cons.
Thus, hold the mic and start creating beautiful videos to share with the world right-away with these excellent free video upload sites.