How to Make Perfect Youtube Thumbnail Size in Photoshop
Make Perfect Youtube Thumbnail Size
By Kendra D. Mitchell |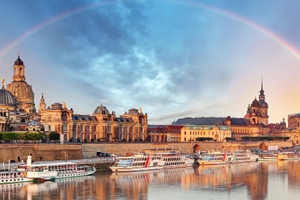 A YouTube thumbnail is basically that video cover that you see before you open a YouTube video clip. With the perfect YouTube thumbnail, your viewers will get a quick sneak-peek of what to expect from your video. Fortunately, you can make a YouTube thumbnail size in Photoshop and on many other programs. So, get ready to start learning how to make a YouTube thumbnail size Photoshop quickly and easily.
Part 1. How to Make a Custom YouTube Thumbnail Size using Photoshop
If you want to produce a DIY YouTube thumbnail, Adobe Photoshop is one of the best places to do that. This graphic editor is designed for both macOS and Windows and is free to use. So without much ado, here is how to make a YouTube thumbnail size Photoshop.
Step 1. Launch Adobe Photoshop and then click the File tab before choosing New to open a new project. After that, select the custom 1280x720 design for a YouTube thumbnail.
Step 2. Click the Gradient tab on the left panel to fill your custom background with a custom gradient. You can do that by long-pressing and dragging your mouse cursor.
Step 3. Now add your picture by clicking the File tab and then choose Place.
Step 4. Next, press the T icon to add a text on your photo. You can change the text color, size, apply effects, and more.
Step 5. Add a rectangle under the text layer to highlight the text.
Step 6. Finally, click File, select Save, and then chose PNG. It's that easy!
Part 2. How to Create YouTube Thumbnail Size in a Fast and Best Way
If you find Adobe Photoshop to be too complicated for you, you can try out these five easy alternatives.
Adobe Spark is another excellent Adobe product for creating professional thumbnails. It's free, easy to use, and doesn't require you to install anything to use.
Step 1. On your web browser, launch Adobe Spark, choose the YouTube thumbnail option, and then hit Next.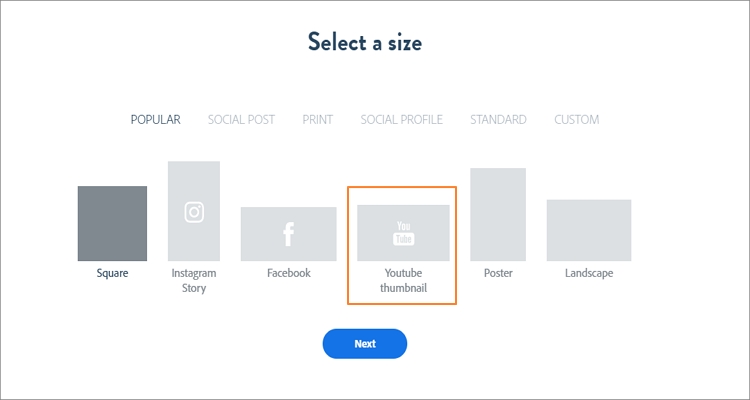 Step 2. After that, press the Add button, choose Upload and then start adding a photo that you want to use as a YouTube thumbnail.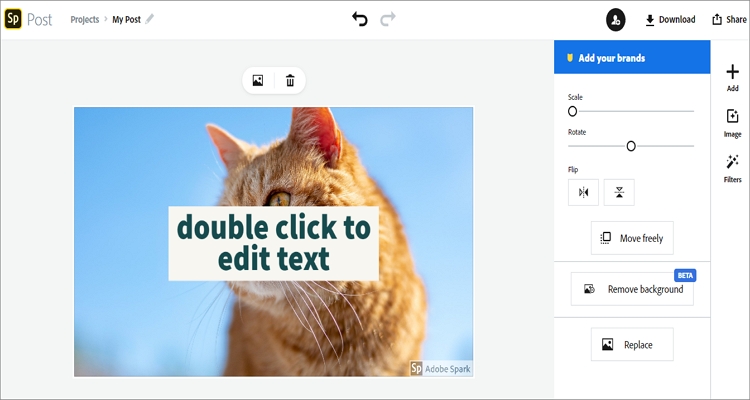 Step 3. Double-click your photo to edit it by adding texts, effects, color-fill, filters, and more.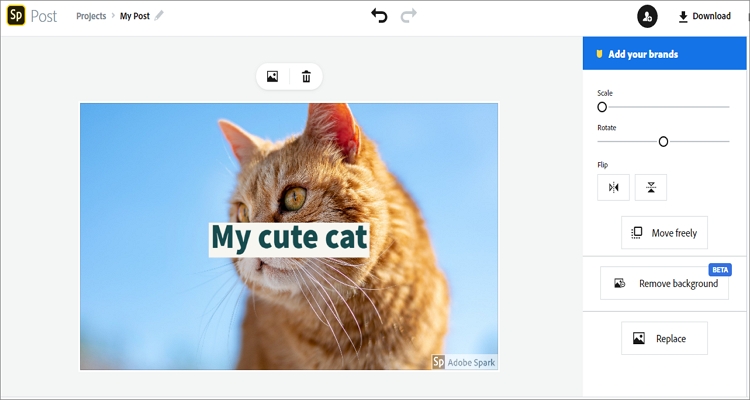 Step 4. Lastly, click the download icon at the top-right corner to save your YouTube thumbnail locally. You can also save on Dropbox or Google Drive.
Canva is another beautiful and straightforward app for creating YouTube thumbnails. Here, you'll quickly make a thumbnail as well as download lots of free logos, posters, flyers, resumes, and more.
Step 1. After visiting Canva YouTube Thumbnail Maker, sign up and click the Uploads button to import your video or image file.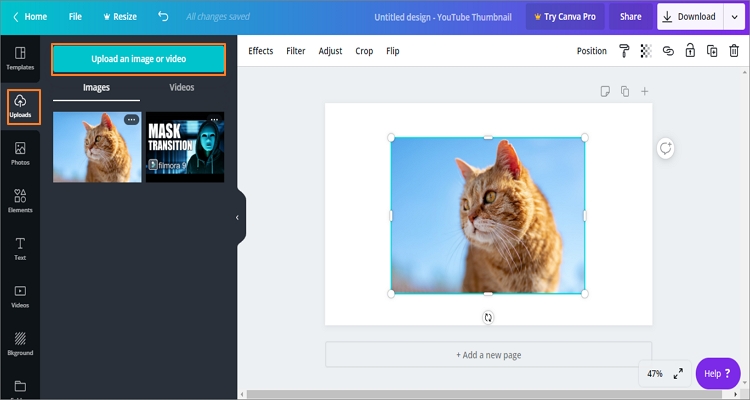 Step 2. After adding a photo, add a background and then start cropping your YouTube Thumbnail. You can also add texts, apply effects, change the font, and more.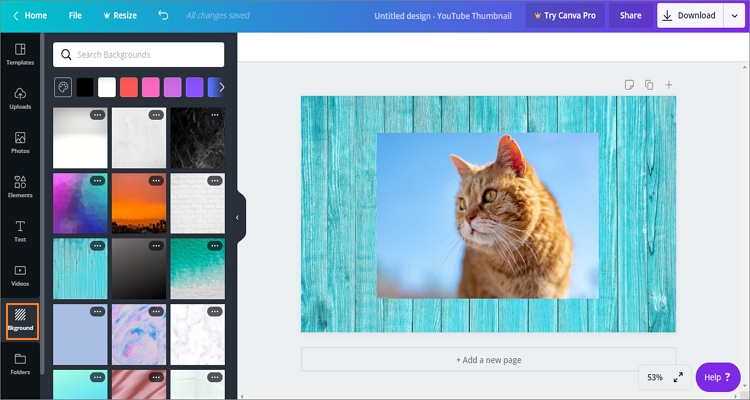 Step 3. Click the Download button at the top-right corner to save your YouTube thumbnail design. You can also share a link to Facebook, Twitter, email, Dropbox, and more.
Fotojet is a free YouTube thumbnail creator that will make professional thumbnails quickly. On top of that, it also offers you free templates that you can edit and use as YouTube thumbnail.
Step 1. Visit Fotojet and then select a template that you'd like to use as your YouTube thumbnail. You can also make a thumbnail from scratch.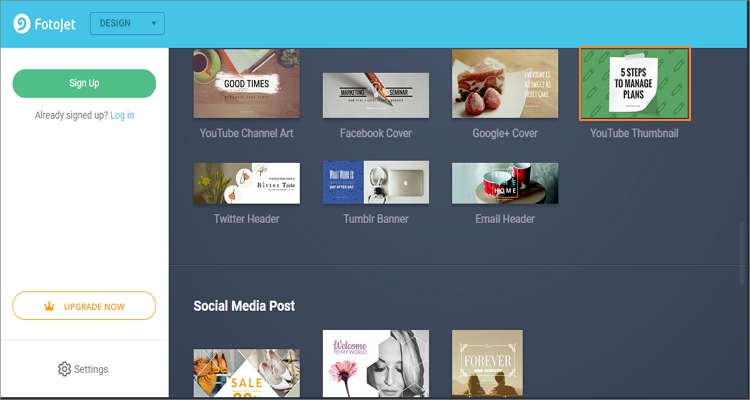 Step 2. Choose a photo and then crop it before clicking the "Background" button to apply a custom background. You can also use effects, rotate, flip, add text, and other essential photo editing functions.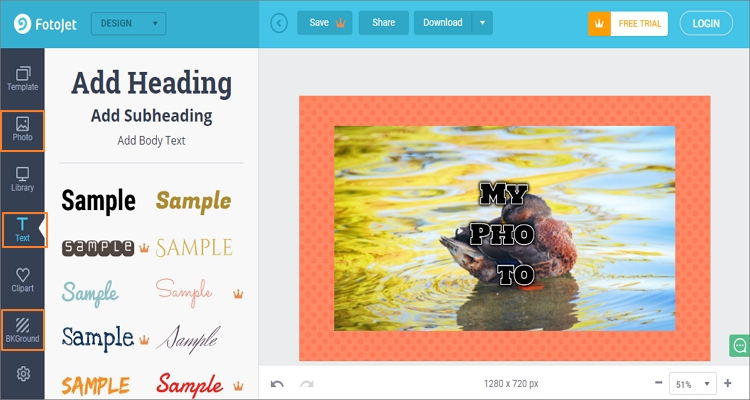 Step 3. After editing your template, click the Download menu, choose PNG format and then tap the DOWNLOAD button to save your thumbnail.
Snappa is an online YouTube thumbnail maker that's easy-to-manipulate and offers powerful thumbnail-making tools. After signing up here, you'll enjoy more than 3 million free, high-resolution photos to convert to YouTube thumbnails. You can also customize your thumbnail with 200+ fonts, high-quality effects, 100,000+ shapes and vectors, and more. Moreover, it allows you to share graphics with Twitter, Facebook, email, and more.
Step 1. After signing up, choose the YouTube Thumbnail resolution.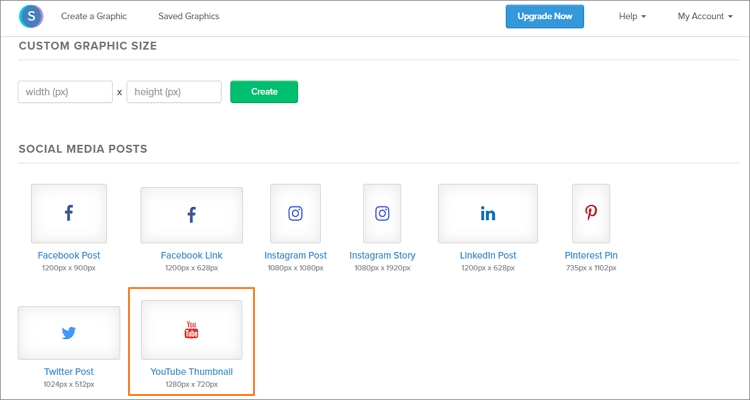 Step 2. Now choose a template and then click the Bkgrnd tab. Next, choose Uploads and start importing your local image file.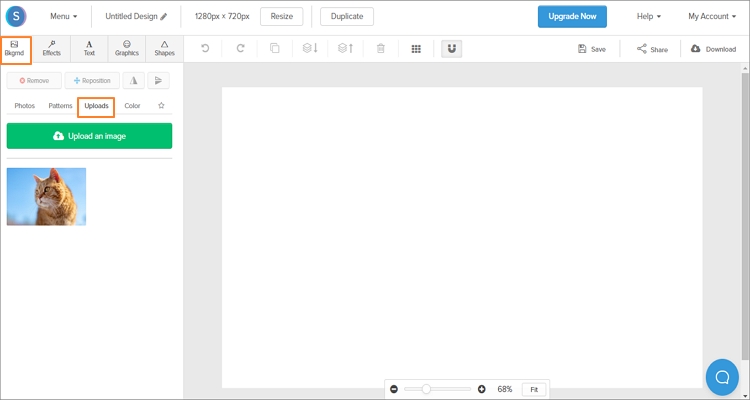 Step 3. Go ahead and start personalizing your photo by applying effects, adding text, embedding shapes, and more.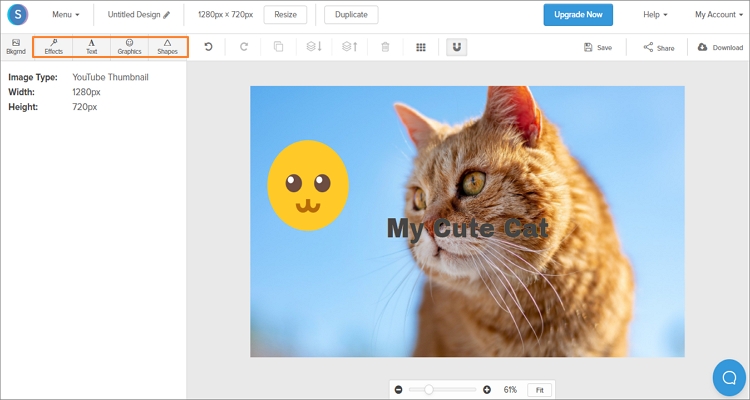 Step 4. If satisfied, click the Download icon and then choose the Hi-res PNG option to begin downloading your YouTube thumbnail.
The fifth and the last YouTube thumbnail maker on this list is Visme. Like the rest, you must sign up first to use this online app. After that, Visme allows you to create custom presentations, documents, printables, social graphics, and more. All that you have to do is to pick a custom graphic to get started.
Step 1. Visit Visme on your browser and sign up. After making an account, click the Create button and then hit the SOCIAL GRAPHICS tab. Now tap the YouTube icon and then select the YouTube Video Covers template.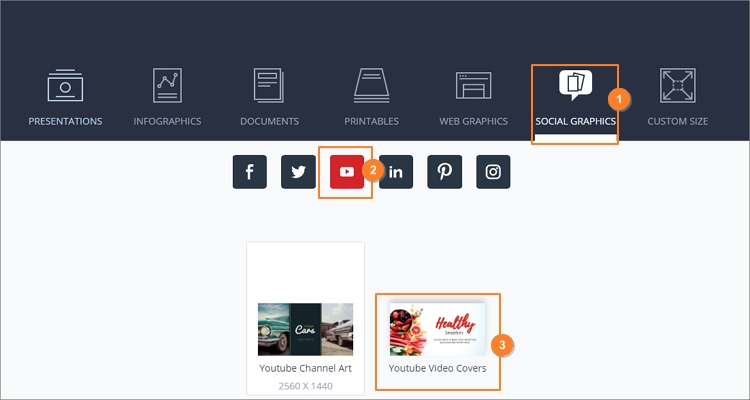 Step 2. On the project window, click Photos and then choose the Upload image button to load your image file.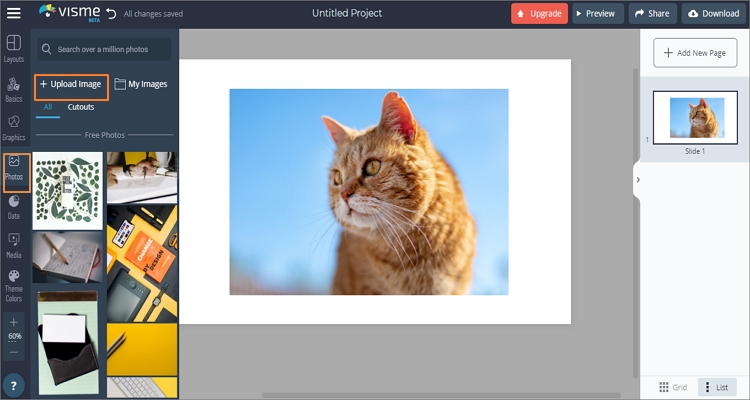 Step 3. Click the Background tab to apply a custom background on your imported photo. You can also use filters, text, effects, and more.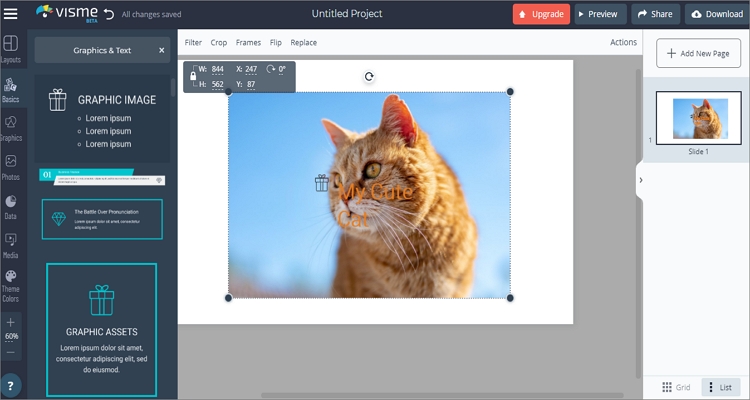 Step 4. Open the Download menu, choose Image, and then select the PNG format. You can also select JPG if you're using the free plan. And finally, hit the Download button to save your YouTube thumbnail.
Summary
So, have you already settled on the best method to make a high-quality YouTube thumbnail? Well, let me help you out. Although creating a YouTube thumbnail size in Photoshop offers you plenty of professional customization options, it can be confusing, especially to beginners. Therefore, green hands should start with the online options as you master Photoshop gradually. But overall, it is the best thumbnail making app for pros.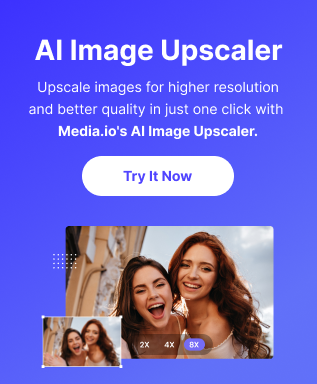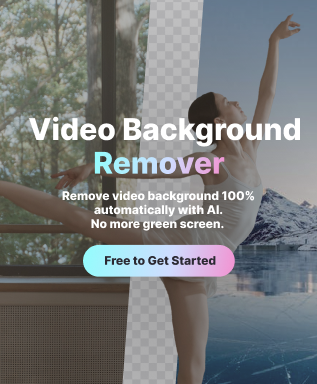 Media.io - Online Video Editor
Create Your Incredible Videos Anywhere, Anytime!
Convert BMP

Convert GIF

Convert JPG

Convert PNG

Convert Other Images

Resize Image

Make Your Memes